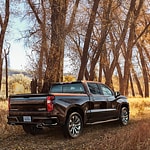 Chevrolet Silverado is one of the most comfortable heavy duty truck models in the lineup. It comes with advanced technology that makes the ride worth it. This truck has an 8-inch infotainment touchscreen display that conveniently brings all the operations on the fingertips of the driver.
Silverado 1500 also features Bluetooth connectivity as well as Android Auto and Apple CarPlay with smartphone app integration to keep you connected everywhere. The Chevy Silverado also comes with a wireless charging station to reduce the inconvenience of having many wires on the dashboard. Entertain your passengers with the HD Radio and SiriusXM satellite radio that come standard with this truck.
For high quality sound, the Chevrolet Silverado 1500 comes fitted with Bose audio system. It also has an enhanced driver alert system that ensures you don't miss any hazard that can lead to an accident. These advanced technology systems offer an extra eye to the driver.