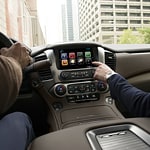 If you're looking for an SUV that's comfortable for passengers and fun to drive, then consider the Chevrolet Suburban. Even though it's a larger vehicle, you'll notice that there are increased fuel-saving features while driving in Schoolcraft. Auto start and stop allows for retaining the power that you need without keeping your vehicle running when it's stopped.
There's a head up display that keeps you sitting in the best position possible to ensure that you maintain eye contact with the road. A redesigned instrument cluster includes larger features and brighter lights. While at Cole-Krum Chevrolet, LLC, you can see how warm the heated seats get as well as the dual climate control features.
If you like power, then you'll enjoy the V8 gasoline option. There's also a V6 diesel engine. AWD allows for a better driving experience in various kinds of weather conditions and on various types of terrain.