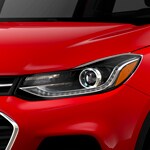 The Chevy Trax is both powerful and compact. It's also equipped with an impressive range of safety features. From mitigating the damages caused by collisions to preventing them outright, this vehicle is built to be driven with confidence. At Cole-Krum Chevrolet, LLC, we're excited to detail three ways in which the Chevy Trax is designed to keep both Schoolcraft drivers and their passengers protected.
See Everything Clearly With a Standard Rear Vision Camera
Seeing what lies behind you with a conventional rearview mirror becomes a real challenge when your vehicle is loaded with passengers and cargo. The Chevy Trax overcomes this difficulty with a standard Rear Vision Camera. This feature activates whenever you reverse in low speeds to give you a clear view of any obstructions that might be in your way.
Relax in a Truly Protective Design
The Chevy Trax is built with a high-strength steel cage. This makes it incredibly resilient in high-impact events. It also has 10 strategically placed airbags for minimizing the damages caused by collisions.
Auto High-Beam Assist
When weather or environmental conditions change, Auto High-Beam Assist will kick in to provide the perfect amount of illumination. High-beam headlamps are instantly turned on when greater light is required. They also automatically adjust to accommodate oncoming traffic.